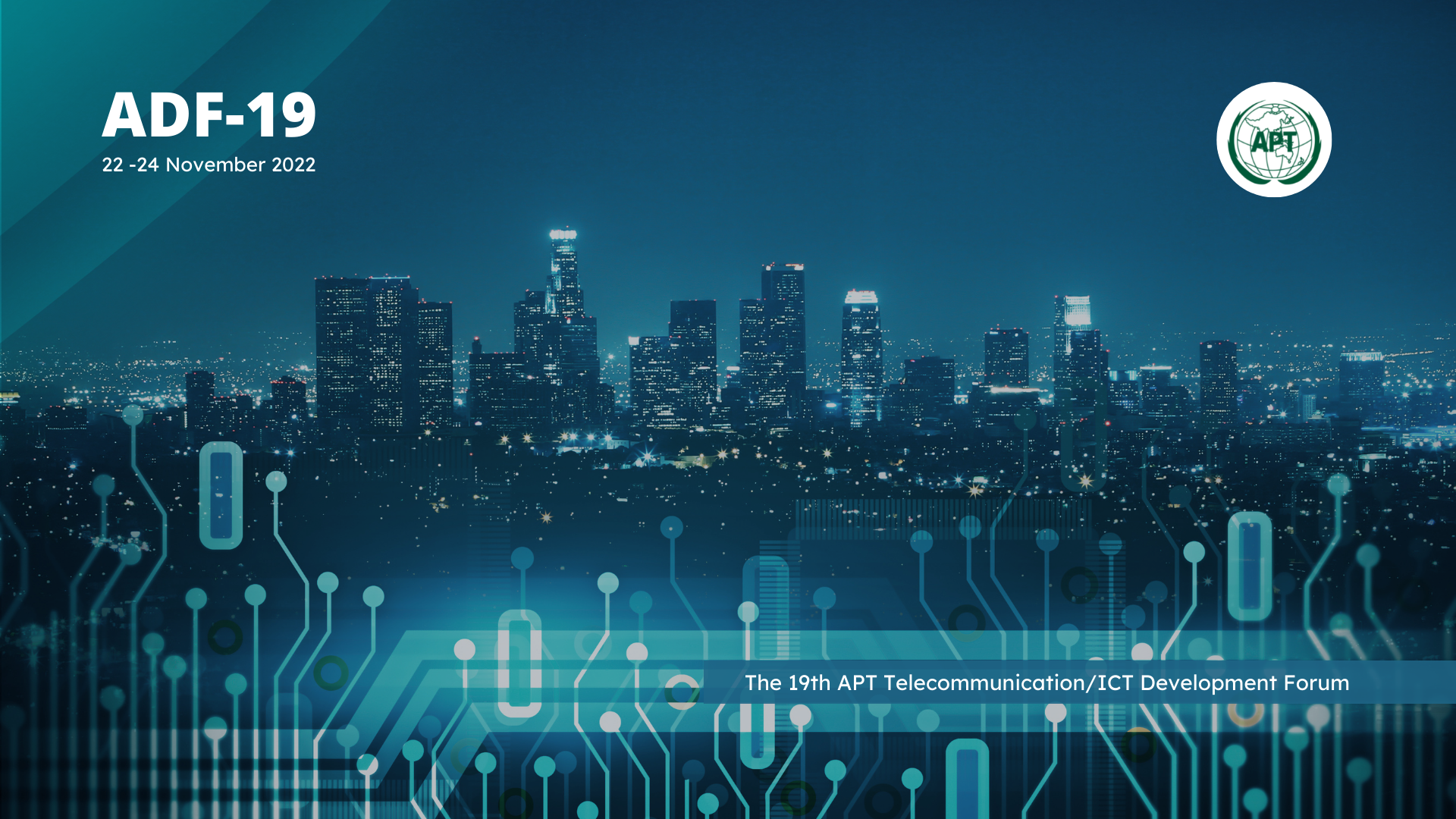 24.11.2022
November 22-24, 2022, via Videoconference
From 22 to 24 November 2022, the 19th APT Telecommunication/ICT Development Forum (ADF-19) was held via video link.
The meeting was attended by about 80 delegates from the member countries of the Asia-Pacific Telecommunication Union, as well as representatives of the RCC.
Representatives of the Communications Administration of the Republic of Armenia, the Republic of Kazakhstan, the Kyrgyz Republic, as well as employees of the RCC Executive Committee took part from the RCC.
The above meeting was opened by Ms. Chairperson Tepua Hunter with opening remarks. The APT Secretary General Masanori Kondo also delivered a welcoming speech.
The 19th Forum (ADF-19) reviewed the policies of APT members, support from research institutions and the latest technologies to realize affordable and reliable communications, which is a prerequisite for digital transformation.
Also, it was a topic to consider how the recent trend is affecting young people who want to start a business with their own ideas, and how governments and institutions are creating an ecosystem for start-ups in the Asia-Pacific region. ADF-19 also served as a platform to share the current status, results and achievements of various ICT projects implemented through collaboration between APT members and experts from the People's Republic of China, Japan and the Republic of Korea funded by Extra-Budgetary Contributions (EBC).
The overall goals of the ADF for 2022, which was approved by MC-45 in December 2021, were to:
1) Focus on telecommunication/ICT development issues in developing countries;
2) Provide members with the opportunity to exchange information on best practices and experiences;
3) Facilitate the exchange of experience to address key issues in the development of telecommunications/ICTs.
The agenda of the 19th Forum, based on common goals, included the following:
• Discussing effective actions to ensure accessible and meaningful connectivity for the unserved people in the Asia-Pacific region, depending on the status of the countries;
• Exchange of knowledge and ideas on the national plans of the governments of the countries - members of APT in the field of broadband;
• Explanation of the current state and potential of communication technologies such as 5G, latest Wi-Fi technologies, satellite communication technologies, etc.;
• Exchange of knowledge and experience in the field of strategy and implementation of services "Smart City", "Smart Transport" and other industries using data and the latest ICT based on practical examples and success stories of APT members;
• Reviewing and discussing cases and implications for start-up and SME development based on recent advances in ICT and corporate investment from governments and organizations in the Asia-Pacific region.
At the end, the APT Secretary General and the Chairman of the 19th Forum thanked all participants for their connections and for their high work in the Asia-Pacific region.