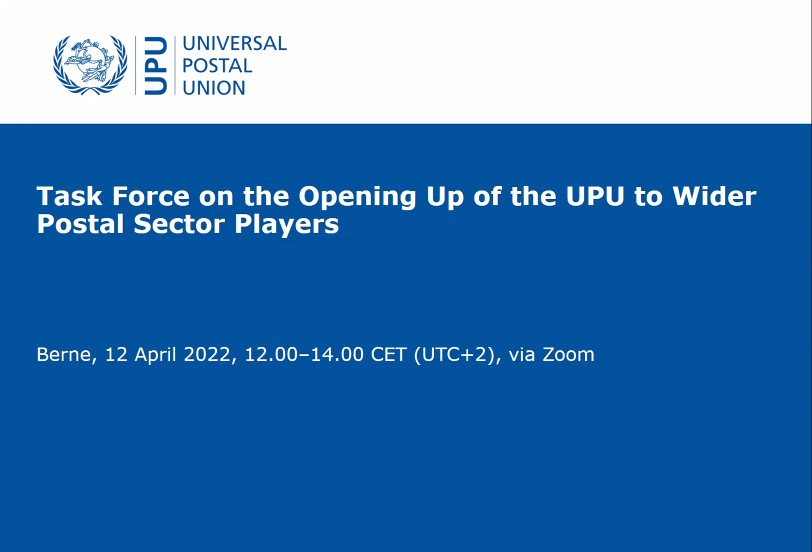 12.04.2022
April 12, 2022, via videoconference
On April 12, 2022, a Task Force to the Opening Up of the UPU to Wiber Postal Sector Players via videoconferencing.
The meeting was attended by more than 150 delegates from member countries, as well as observers from international and regional organizations.
The meeting was attended by representatives of the Communications Administrations of the Republic of Belarus, the Russian Federation, the Republic of Uzbekistan, as well as employees of the RCC Executive Committee.
The above-mentioned meeting was opened and Siva Somasundram, the Representative of the UPU IB and the Chairman of this meeting, Stuart Smith, delivered a welcoming speech.
The agenda of the above meeting included the following main issues:
1. Workstream 1 - Institutional structure;
2. Workstream 2 - Opening UPU products and services.
Presentation: Workstream 1 - Institutional Framework Ideas to consider on the way forward.
This presentation covered the following questions:
- To what extent should the larger players in the postal sector be integrated into the structure of the organization?
- What ability to make decisions should they have even within a separate structure?
- How easy should it be to join the organization (as part of its permanent structure)?
- To what extent should the organization's products and services be open to these stakeholders?
- What should be their contribution to funding the organization, either through membership dues or pay-as-you-go models, in relation to access provided to UPU products and services?
Presentation: Workstream 2 - UPU products and services.
This presentation looked at how to ensure effective and timely access for the wider postal sector to the UPU products and services that are planned to be launched. Such access must be granted on the basis of demonstrable need, consideration of relevant impact assessments, and in accordance with the general access policy and principles set out in Congress Resolution C10/2016 and any other relevant provisions of the AA. Achieve a balanced and forward-looking outcome with options to open up UPU products and services to the wider postal sector for presentation at the 2023 Extraordinary Congress.
At the end of the meeting, the Chairman thanked all participants for their presence and for their contributions to the work of the task force.