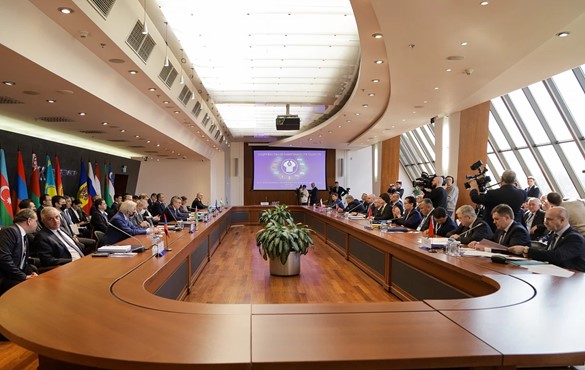 18.03.2022
March 18, 2022, Moscow, Russian Federation
The 93rd meeting of the CIS Economic Council was held in Moscow at the World Trade Center.
The meeting was opened by the Deputy Prime Minister - Minister of Trade and Integration of the Republic of Kazakhstan Bakhyt Sultanov.
The meeting was attended by First Deputy Prime Minister of the Republic of Azerbaijan Yagub Eyyubov, Vice Prime Minister of the Republic of Armenia Mher Grigoryan, Deputy Prime Minister of the Republic of Belarus Igor Petrishenko, First Deputy Chairman of the Cabinet of Ministers of the Kyrgyz Republic Arzybek Kozhoshev, Deputy Prime Minister of the Russian Federation Alexei Overchuk , Minister of Economic Development and Trade of the Republic of Tajikistan Zavki Zavkizoda, Deputy Prime Minister, Minister of Economic Development and Poverty Reduction of the Republic of Uzbekistan Jamshid Kuchkarov, Minister-Counsellor of the Embassy of the Republic of Moldova in the Russian Federation Sergiu Goncherenco, Ambassador Extraordinary and Plenipotentiary of Turkmenistan to the Russian Federation Batyr Niyazliev, Chairman of the CIS Executive Committee Sergey Lebedev.
During the meeting, the draft Plan of Priority Actions for the Implementation of the Strategy for Ensuring Information Security of the States Members of the Commonwealth of Independent States for the period up to 2030 was considered, which defines a set of measures aimed at the practical implementation of agreed approaches to regulating the field of ensuring information security, taking into account the existing approaches of the Member States CIS, as well as the best practices developed in this area.
The adoption of the Action Plan will create a systematic basis for clarifying and improving the state policy for ensuring information security, as well as providing conditions for developing measures to ensure information security that are adequate to the challenges and threats.
The draft document is planned to be submitted for consideration at the next meeting of the CIS Council of Heads of Government.