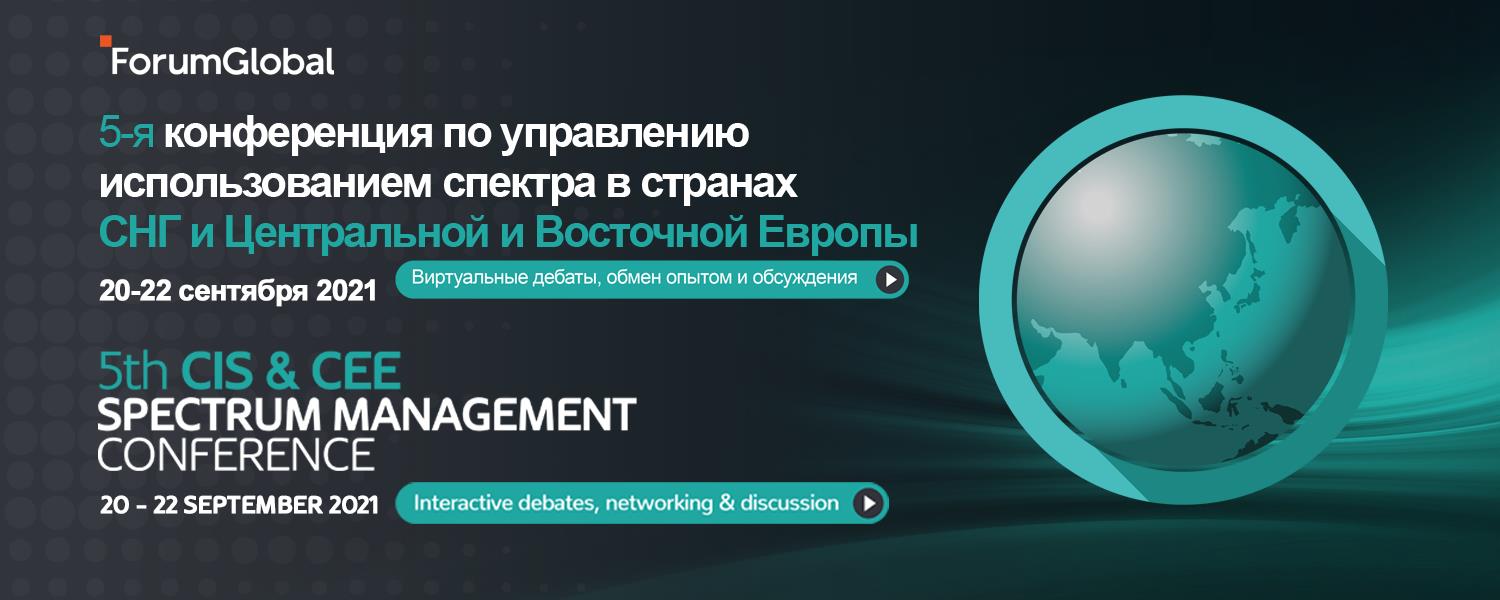 23.09.2021
20-22 September 2021, via Videoconference
The 5th Spectrum Management Conference for CIS and Central and Eastern Europe, organized by Forum Global, was held on 20-22 September 2021. The event was held in videoconference mode.
More than 450 experts representing Communications Administrations, operators, equipment manufacturers, research and development organizations, private sector from 88 countries participated, including representatives of the RCC Communications Administrations: Republic of Armenia, Republic of Azerbaijan, Republic of Belarus, Republic of Kazakhstan, Russian Federation, Republic of Tajikistan, Republic of Uzbekistan, as well as the ITU Radiocommunication Bureau, ITU Telecommunication Development Bureau and the RCC Executive Committee.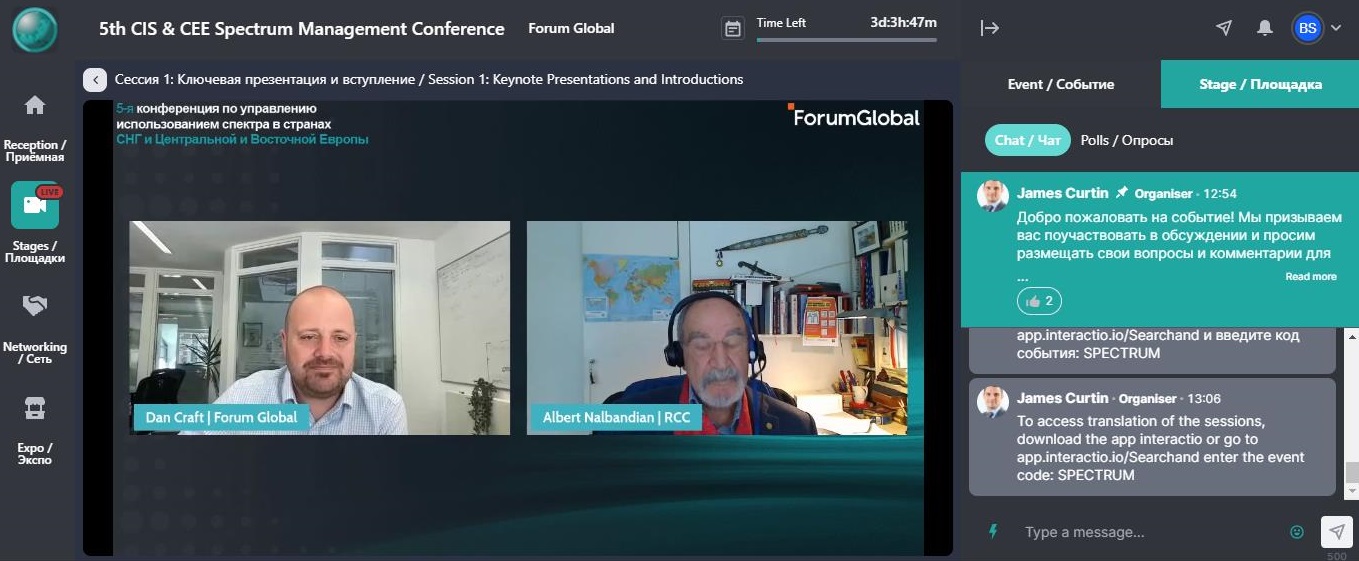 The above event was opened by Dan Kraft (Forum Global Managing Director) who then handed over the lead to Albert Nalbandian (Chairman of the RCC RA/WRC WG on RFS and SO).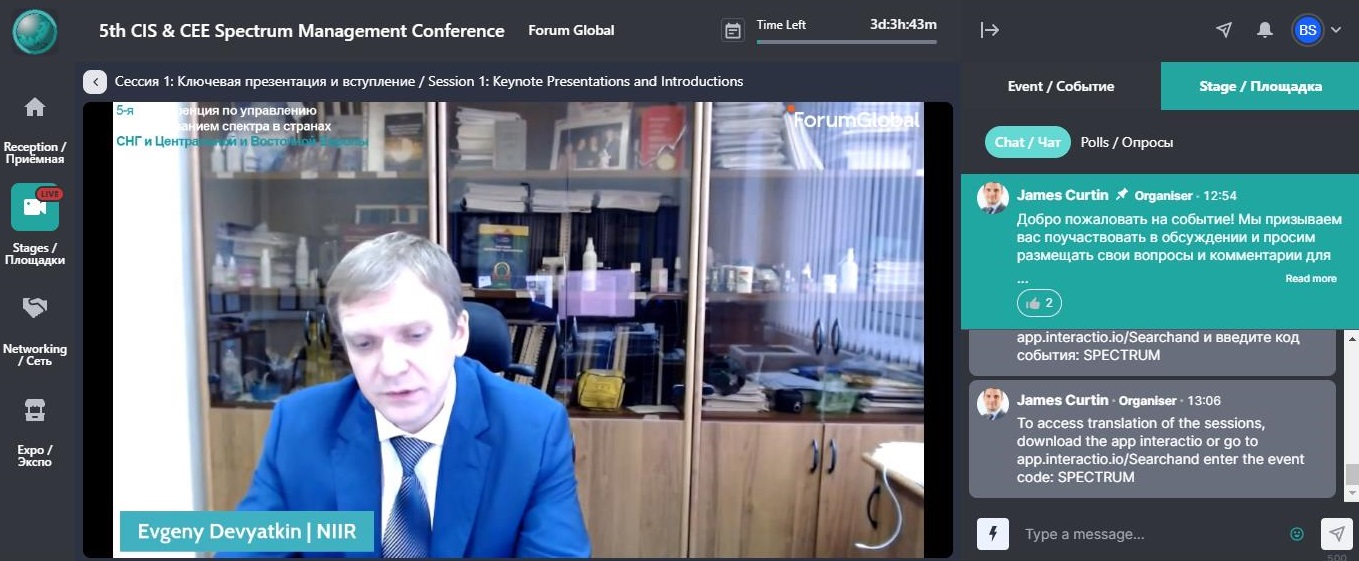 During the first session, keynote speeches were delivered:
Evgeny Devyatkin (FSUE NIIR, Russian Federation), who spoke about the current status and prospects of telecommunication network development in Russia;
Nurudin Mukhitdinov (General Director, RCC Executive Committee), welcomed the participants and detailed the development of the 5th generation networks, preparations for WRC-23 and pandemic mitigation efforts within the RCC;
Mario Manevich (Director, ITU Radiocommunication Bureau) gave an update on the preparations for WRC-23.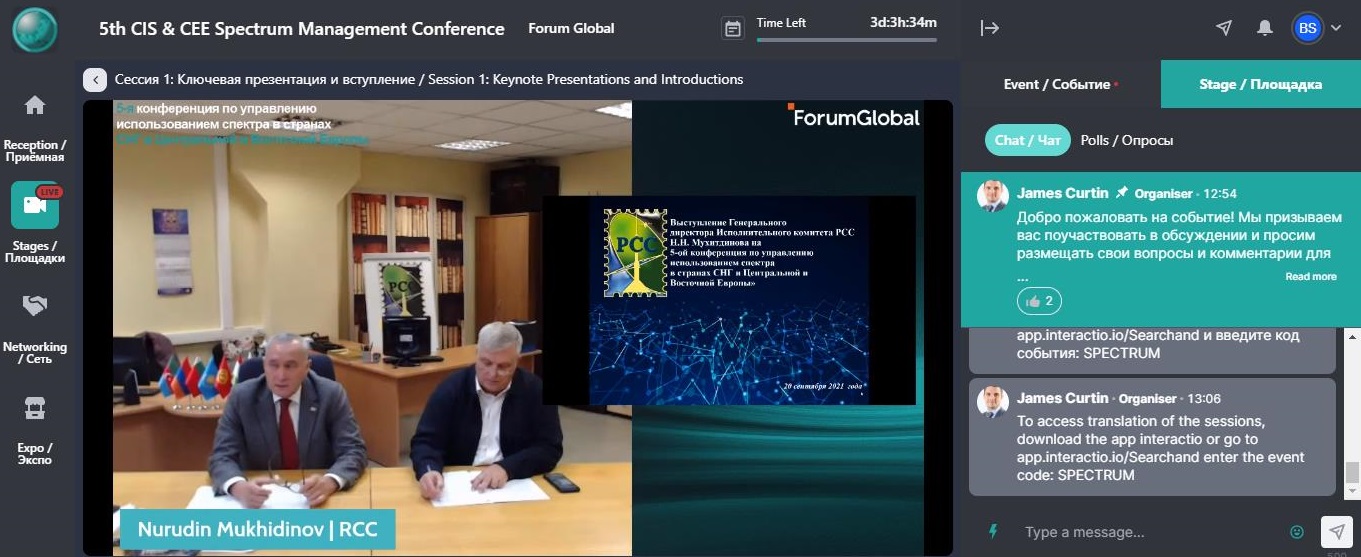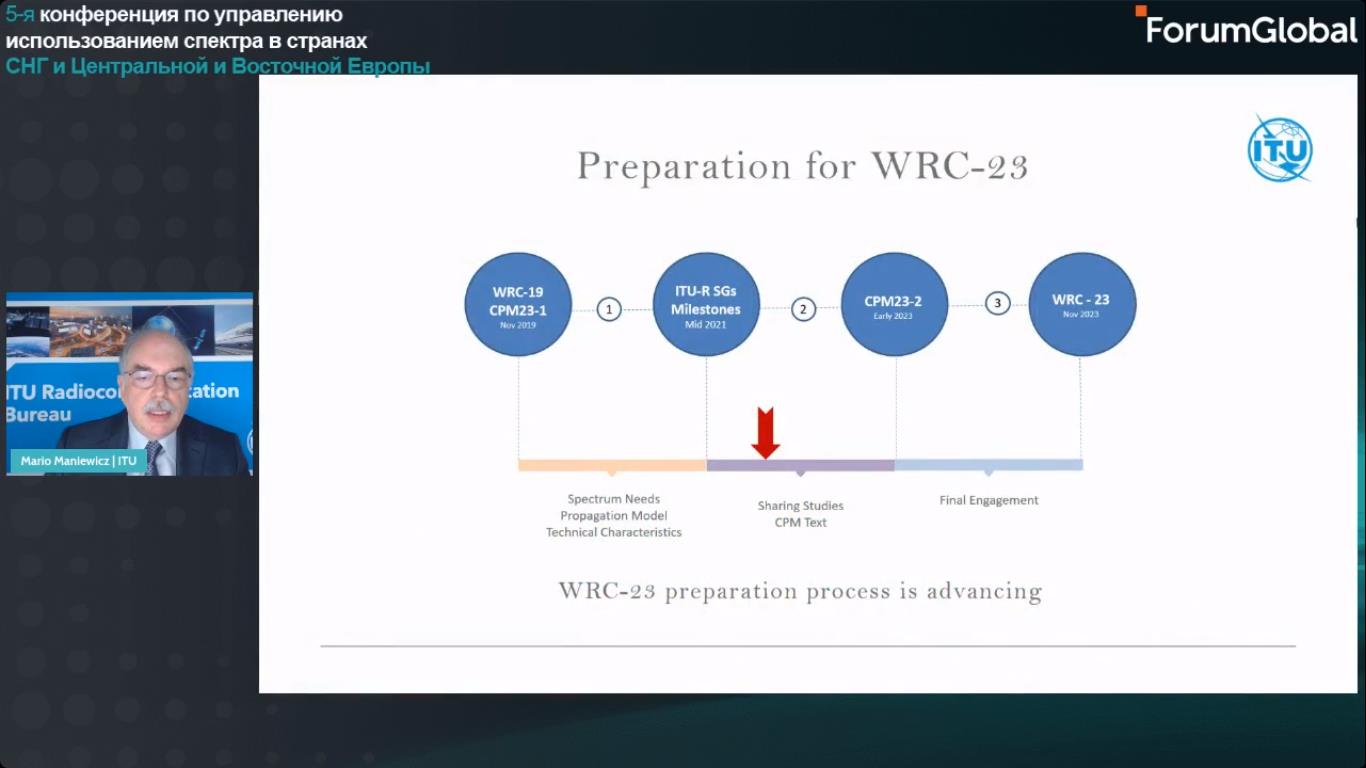 The second session, moderated by Vadim Poskakukhin (Project Manager, Representative of Spectrum Management LLC in the GSA RCC Branch Office), discussed cross-border cooperation. Mr Aleksey Ivashkin (Director of BelGIE RUE, Republic of Belarus) described the preparation to the transition to the 5th generation networks in his country. He pointed out the existing problems in spectrum usage between Belarus, Russia and Ukraine. Gulam Abdullayev (Chief Advisor of MSTT, Republic of Azerbaijan) spoke about the successes and outstanding issues in cross-border cooperation of his country.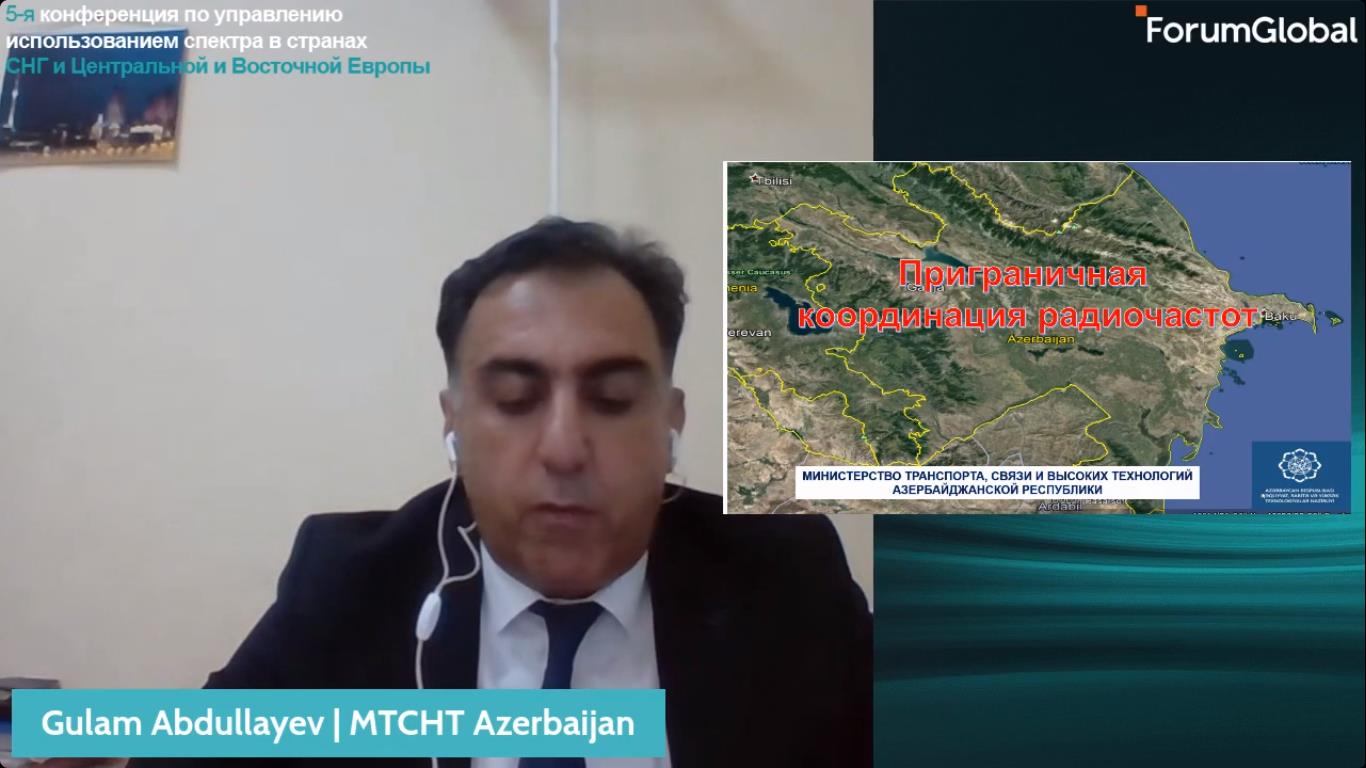 Mindaugas Žilinskas (Lithuania) spoke about his country's cooperation with neighboring countries to harmonize the use of radio frequency bands.
On 22 September 2021, Sahiba Hasanova (ISTT Lead Counsellor, Republic of Azerbaijan) gave a keynote presentation on "The RRC working method and its position on the WRC".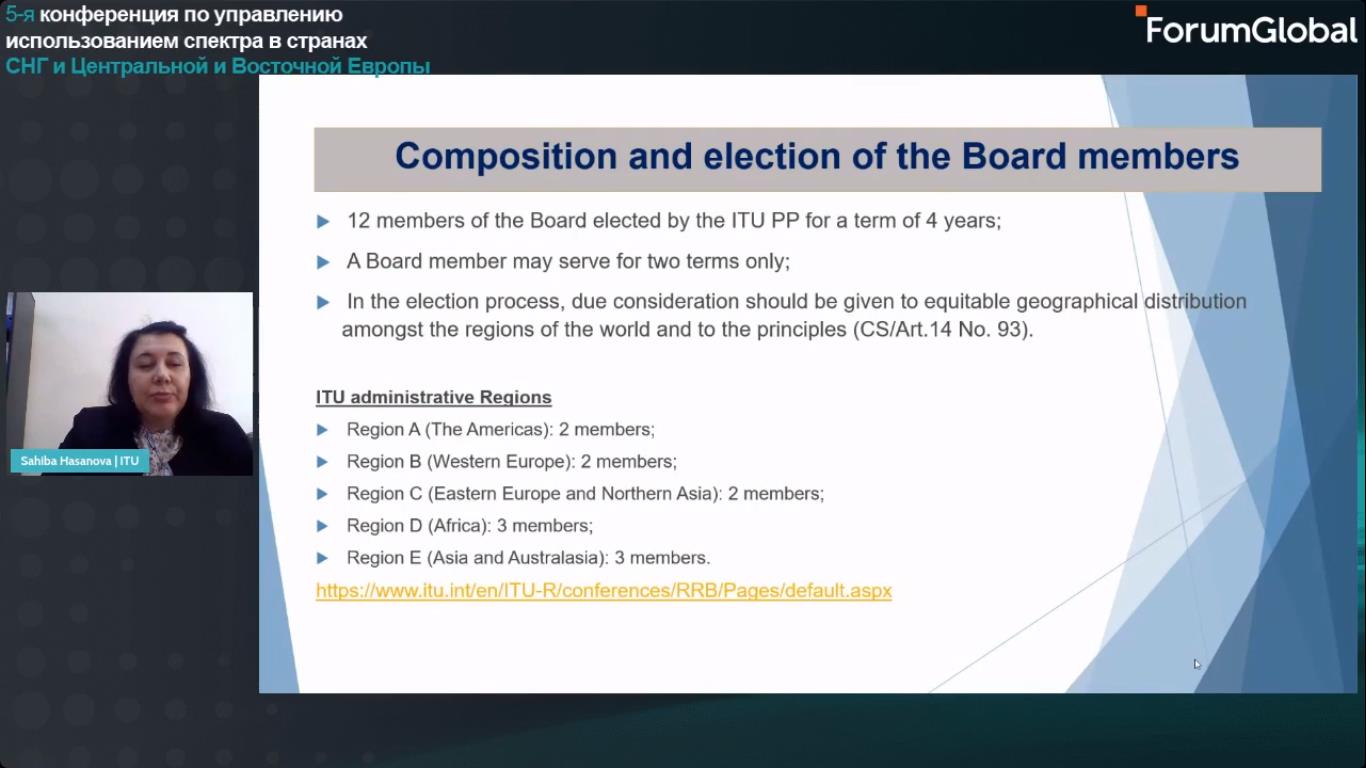 The work then continued in Session 3: WRC-23 - where are we in preparation for key agenda items in the CIS region and worldwide? This session provided an update on the current status and emerging positions in the various regions, with a particular focus on preparations for WCD-23 at the RCC level. The session was moderated by Mario Manevic (ITU BR). The preparation of RCC countries for this event was presented by Albert Nalbandian (Chairman of the RCC RA/WRC WG on RFS and SO).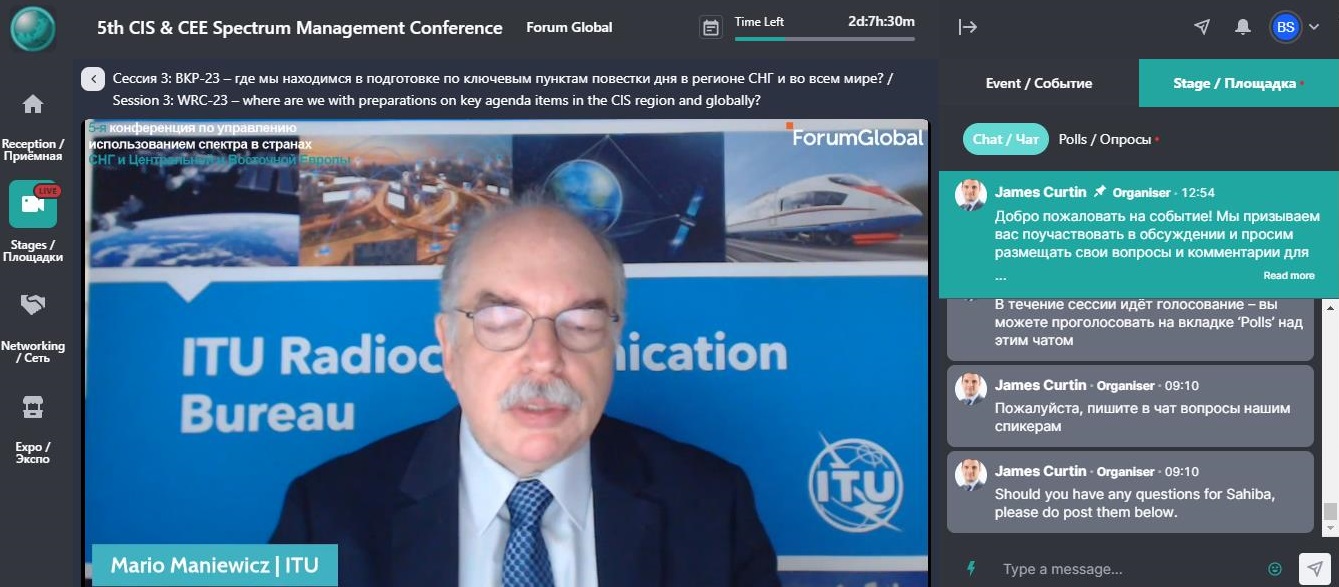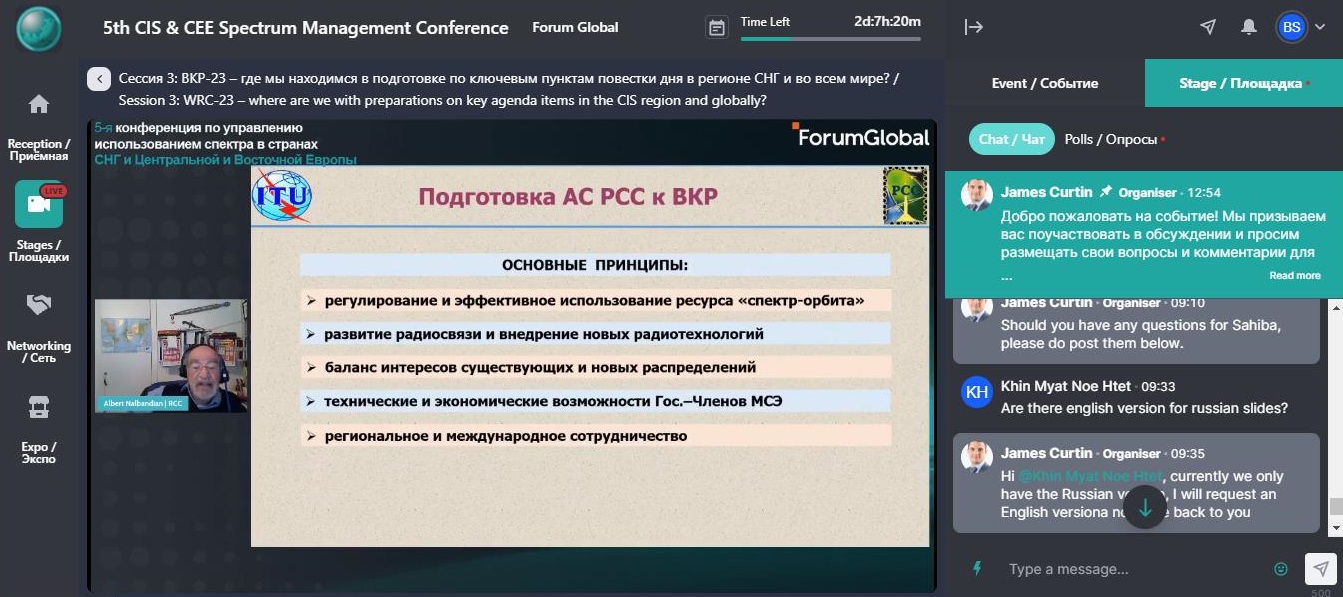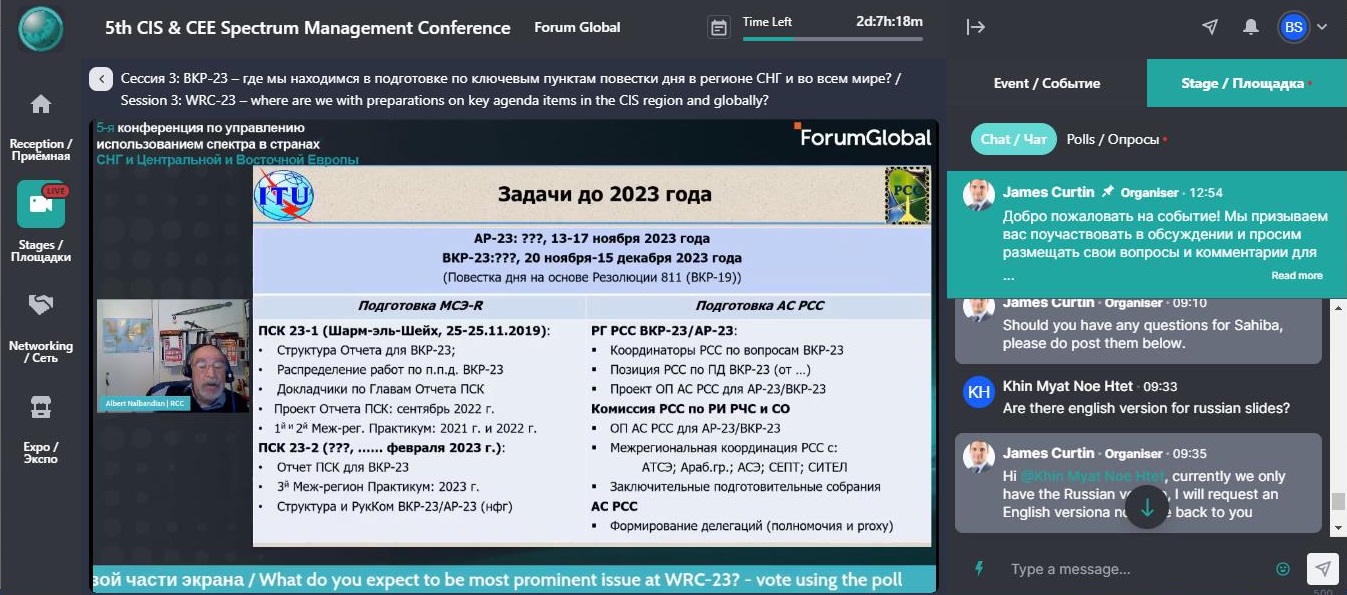 During the discussion Glyn Carter (Senior Spectrum Advisor, GSMA); Altair Andrey Marques (ESOA), Galina Fedorova (Member of the Technical Committee of the European Broadcasting Union), Alexander Gulyaev (GSA) and Alexander Kholod (Chair of the Conference Preparatory Group, CEPT) presented their organizations' positions on issues to be raised at WRC-23.
The next session looked at technological and policy solutions for rural connectivity. The session was moderated by Victor Strelets (Chairman of ITU-R Study Group 4, FSUE NIIR, Russian Federation) and discussed by Rizat Nurshabekov (General Director, Republican Enterprise Radio Frequency Service, Republic of Kazakhstan); Andrey Lashkevich (FSUE NIIR, Russian Federation); Pavel Mamchenkov (Director, Radio Frequency and Licensing Department, MegaFon) and Ivan Zaitsev (Director of Market Access, OneWeb). They discussed technologies and strategy options for low-cost and sustainable connectivity in rural areas and the impact that fixed wireless access, satellite broadband, unlicensed bandwidth solutions and other key technologies can have on such a challenge.
Session 5: Balancing the needs of licensed and unlicensed users in the 6 GHz band, which continues to be one of the most sought-after frequency bands for a number of key stakeholders. This band is currently used in satellite and radio relay systems, so both unlicensed and licensed services consider access to spectrum in this band to be critical. The session presented the positions of the different user categories and identified opportunities for coordination. The moderator was Mark Eschenburg (Aetha Consulting) and the speakers were Lydia Varukina, (Nokia), Tak In Pun (CERT), Jonas Eneberg (ESOA) and Sergey Pastukh (FSUE NIIR, Russian Federation).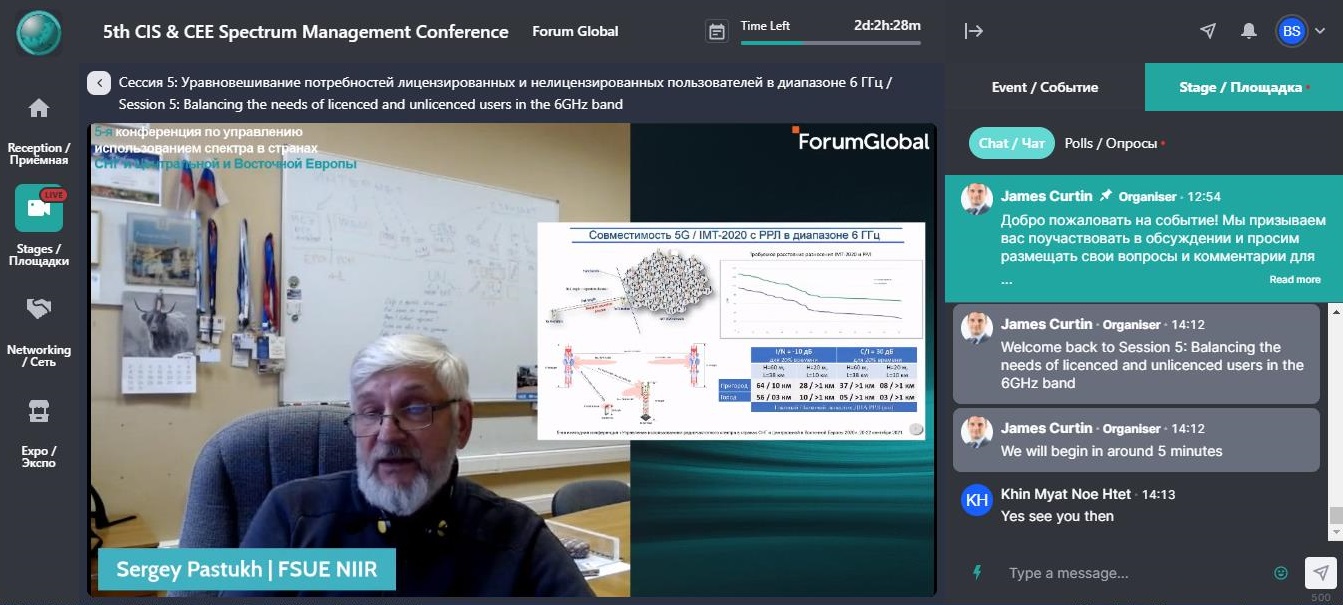 The final session of the second day was dedicated to the impact of electromagnetic fields on consumer health. The moderator was Albert Nalbandian (Chairman of the RCC RA/WRC WG on RFS and SO). The speakers were Nikolay Vassiliev (Director, Terrestrial Services Department, ITU Radiocommunication Bureau); Rodney Croft (Chairman, ICNIRP); Jack Rowley (Senior Director, Research and Sustainability, GSMA) and Peter Vari (Deputy General Director, Hungarian National Media and Information Communications Authority).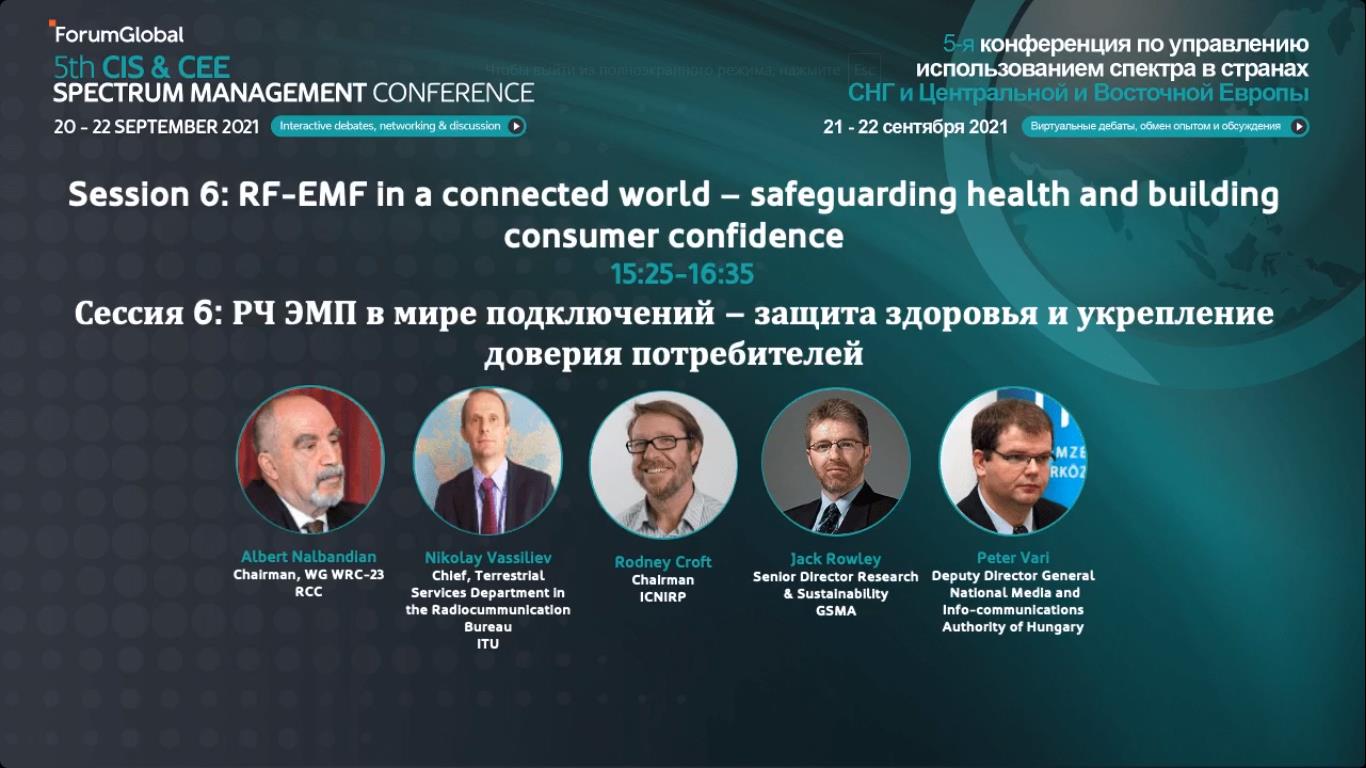 Speakers assured that 5th generation networks are safe for health while complying with international standards and outlined the work of their organizations in informing consumers about research on this topic. The moderator, however, stressed that health issues related to the introduction of 5th generation networks continue to be relevant.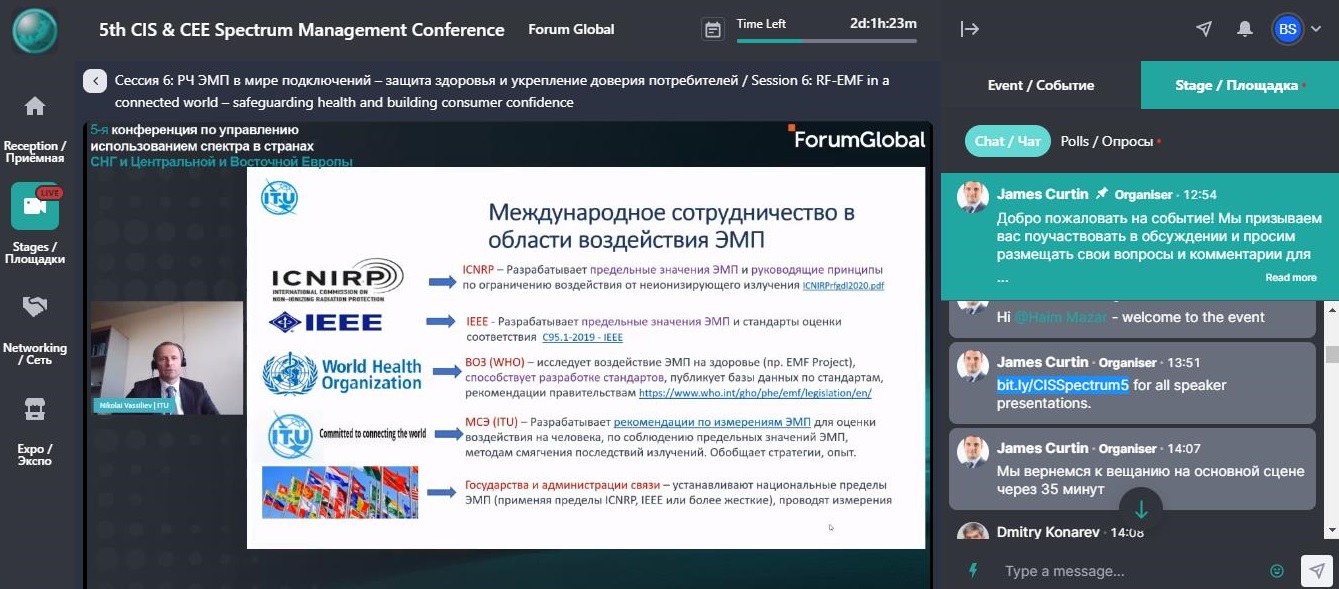 The session on the final 3rd day of the forum opened with a discussion of key bands, strategies and technologies to provide the necessary spectrum for 5G. It was moderated by Farid Nahli (ITU Programme Coordinator). The work underway in Russia and Belarus on this issue was presented by Vadim Poskakukhin (Project Manager, LLC Spectrum Management Representative in the GSA RCC Branch) and Dmitry Korzun (Head of Department, Ministry of Communications and Informatization, Republic of Belarus). The discussion, led by Sergey Pastukh (FSUE NIIR, Russian Federation), then focused on balancing 5G requirements with the needs of other users at low, medium and high frequencies. Jean-Pierre Faizan (Vice-Chair, Broadcasting Networks Europe); Dilmurod Dusmatov (Head of Radio Frequency Spectrum Regulation, Ministry of Information Technology and Communications Development, Republic of Uzbekistan) and Wolfgang Bilz (Chairman, Association for Professional Wireless Production Technology) presented their positions.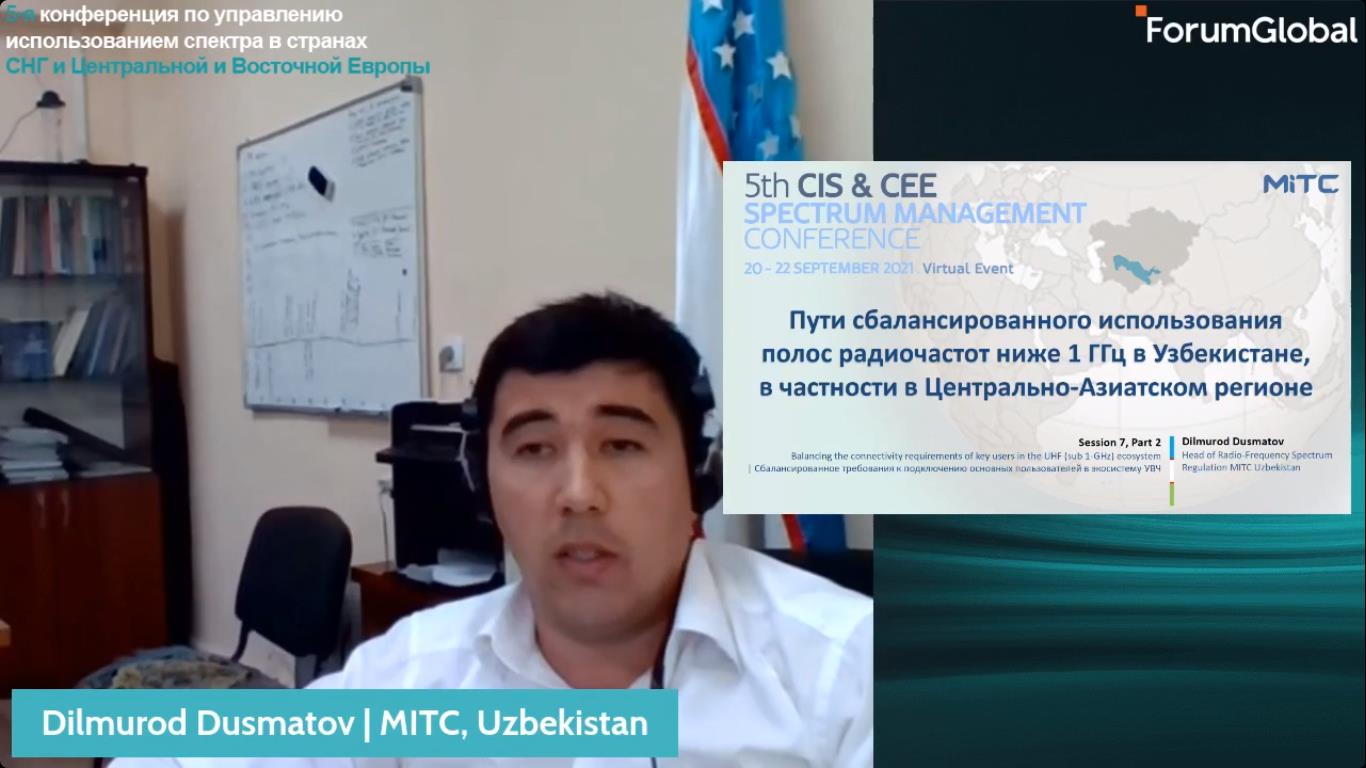 The final two sessions of the day were devoted to balancing the connectivity requirements for key users on the medium and millimetre frequencies.
The results of the conference were summarized by Albert Nalbandian (Chairman of the RCC RA/WRC WG on RFS and SO). RCC representatives Sergey Pastukh, Victor Strelets and Vadim Poskakukhin took an active part in editing the final document.
The conference proceedings can be found at: bit.ly/CISSpectrum5