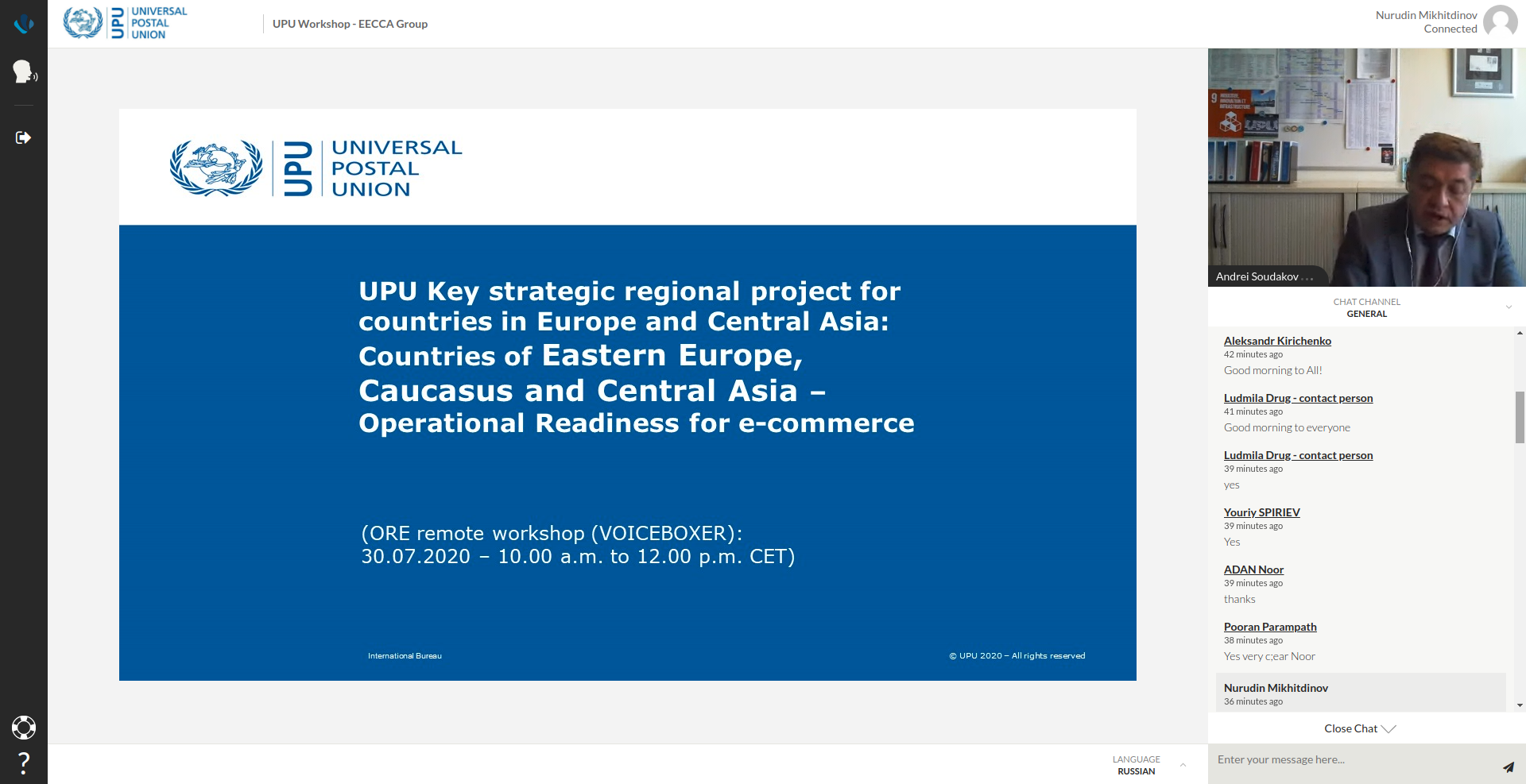 30.07.2020
July 30, 2020, via Videoconference
On July 30, 2020, a Seminar on the support of the UPU project "Operational Readiness for Electronic Commerce" ORE was held for designated operators of the countries of Eastern Europe, the Caucasus and Central Asia via video conferencing.
The Seminar was opened by Andrey Sudakov, Coordinator of the Regional Program for Europe and the CIS. The Seminar was moderated by Adan Nour, Supply Chain Coordinator of the Universal Postal Union, the Seminar coordinator - Yuri Spiriev, UPU Regional Expert and Regional Project Coordinator for the Europe and CIS region.

The above seminar was attended by representatives of the Regional Commonwealth in the field of communications: the Republic of Azerbaijan, the Republic of Belarus, the Republic of Kazakhstan, the Kyrgyz Republic, the Russian Federation, Turkmenistan, the Republic of Uzbekistan, as well as representatives of PosrEurop and the Executive Committee of the Regional Commonwealth in the field of Communications (RCC).
The main objectives of the Distance Seminar were:

- summarizing the results and progress in the work on the ORE project;

- implementation by countries of the roadmaps and action plans for the ORE project;

- evaluation of achievements and improvement of the quality of service;

- actions taken to implement partially completed and / or unfinished activities.
As a result of the videoconference, the UPU representatives gave recommendations on the completion of the ORE project. It was also announced that the next session on the ORE project will be held to assess the achieved objectives of the ORE project in the near future.