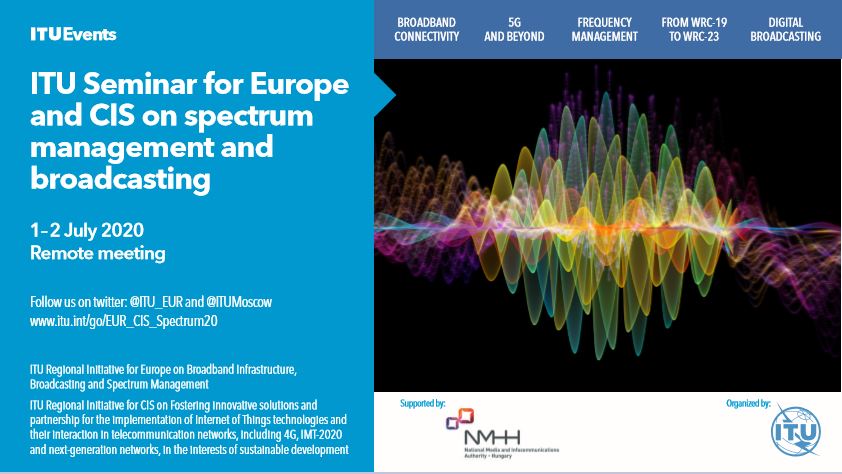 02.07.2020
July 1 - 2, 2020, via Videoconference
From July 1 to 2, the ITU Regional Seminar for Europe and the CIS on spectrum management and broadcasting was organized by the International Telecommunication Union (ITU) with the support of the Hungarian National Media and Infocommunication Administration (NMHH). The seminar was held in a video conference format.

The event was attended by 160 delegates, including representatives of the Regional Commonwealth in the Field of Communications (RCC).
The seminar addressed issues that need to be addressed in Europe and the CIS in the field of broadcasting and spectrum management, the promotion of innovative solutions and partnerships for the implementation of Internet of things technologies and their interaction in telecommunication networks, including 4G, IMT-2020 and next-generation networks, for sustainable development.

In particular, the following topics were addressed:
- World Radiocommunication Conference 19 (WRC-19) and preparations for WRC-23
- Strategic planning and policies for wireless innovation in Europe and the CIS
- Spectrum management and the future of 5G
- Spectrum economics in the context of 5G
- Tenders 5G frequencies
- Electromagnetic fields and 5G implementation
- Measurement methods and tools
- Digital broadcasting
- International frequency coordination

The following people took part on behalf of the RCC Executive Committee: General Director N.N. Mukhitdinov, A.A. Kadyrkulov, Deputy General Director, A.V. Kirichenko, Head of the ITU, UPU and RO Sector, Chief ITU, UPU and Specialist RO Mayorova N.S.